ILLUSTRATION by NAOMI ROSE

Translating the Images in Your Heart into Art
A line drawing in black-and-white or color may be the perfect way to bring your book, website, business, family album, memoir, etc. to life. Since a picture equals 10,000 words, you can add value, appeal, warmth, and even branding recognition with an illustration that's custom-designed to suit your esthetic taste and your needs.
My training as a visual artist plus my responsive work with clients makes this a collaborative process. You tell me what you want, I come up with a sketch, you give me feedback, I integrate your wishes — until you cry (in delight, of course), "That's it!"
On this page are some examples of illustrations I have done as commissions for others, or from my own explorations. You can imagine yours in their place. Scroll down to see illustrations I have done for:
🌸 Businesses with heart

🌸 Drawings from photos of people in relationship

🌸 Drawings of one person

🌸 Book illustration
And then, if the spirit moves you, contact me to discuss their fulfillment. — Naomi Rose
I. LOGO ILLUSTRATIONS FOR BUSINESSES WITH HEART
Example: AN ILLUSTRATION FOR A PERSONAL CHEFING SERVICE
Personal chef Dana Watt had recently moved to coastal Maine and, loving it there, decided to set up shop with a new brand and a new logo. "I love vegetables," she told me. "And I especially love golden beets. I'm thinking of calling my service 'The Golden Beet.' Could you do an illustration like that?"
"Sure," I told her. "I love to draw vegetables, fruits, and flowers. Tell me more about what you'd like."
"I'd like for the beet to look kind of earthy," she said, "organic, not too groomed. It's even okay if it has a bit of dirt on it. And I'd like the image to have a bit of wildness, so it looks real. Not like polished supermarket produce but fresh, and alive. Like it actually grew in the earth."
"I'll send you a sketch," I said. And, excitedly, I went to a produce store and bought a bunch of organic golden beets. Their leaves were so fresh and vibrant, they seemed to still be reaching for the sun. Back at home, I chose the most robust, interesting beet and set it up near my drawing table. I made a color sketch, then scanned it to my computer and emailed Dana the file.
"Acting while the beet is vibrant," I wrote her, "here's the sketch. The final will be on much better paper, and the coloring will be clearer (the leaves more distinctly green, etc.).
"Tell me what you want done differently. It's best if I can get it done to your liking today. Because, unlike a human model, our model is stored in the fridge and will start to wilt over the next few hours."
Dana's response arrived quickly. "I really like it!" she wrote. "I love the intricacy where the stems meet the beet, and the detailing. I love that the leaves have some gold in them, and how they lean. I love the root and and how the beet is standing upright. It's all very earthy and vivid, yet not literal. And the colors overall are very striking.
"What I'd like done differently: (1) Fewer stems, not so high, so the focus is more on the globe. (2) A little more orange in the beet. (I love that this type of beet is orange-ish gold on the outside, but when cooked it's almost pure golden. Such a nifty little veg!)."
A few hours later, I sent off the finished illustration. "Thank you for such clear directions on what you wanted changed.," I wrote. "They guided me well." The following illustration is what the proprietor of The Golden Beet Personal Chefing Service received.
I could actually almost hear the enthusiasm in her voice as I read the email that came in response. "This drawing makes me so happy!" Music to my ears.
Postscript: Dana took this illustration, added a pleasing shape around it and her business name, and is now using it as her logo. Her site is: www.thegoldenbeet.net
2. Example: A LOGO THAT CONVEYS THE PROCESS RESULTING IN THE PRODUCT
For my own business — especially the Book Development aspect, and especially the listening aspect of that — I wanted a logo that conveyed my work's inner quality. I had a sense of a certain expression, and posed for a photo from which to make a drawing, with that intention in mind.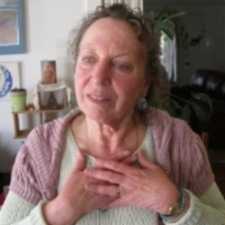 Afterwards, I translated the feeling and posture of the photo into a drawing.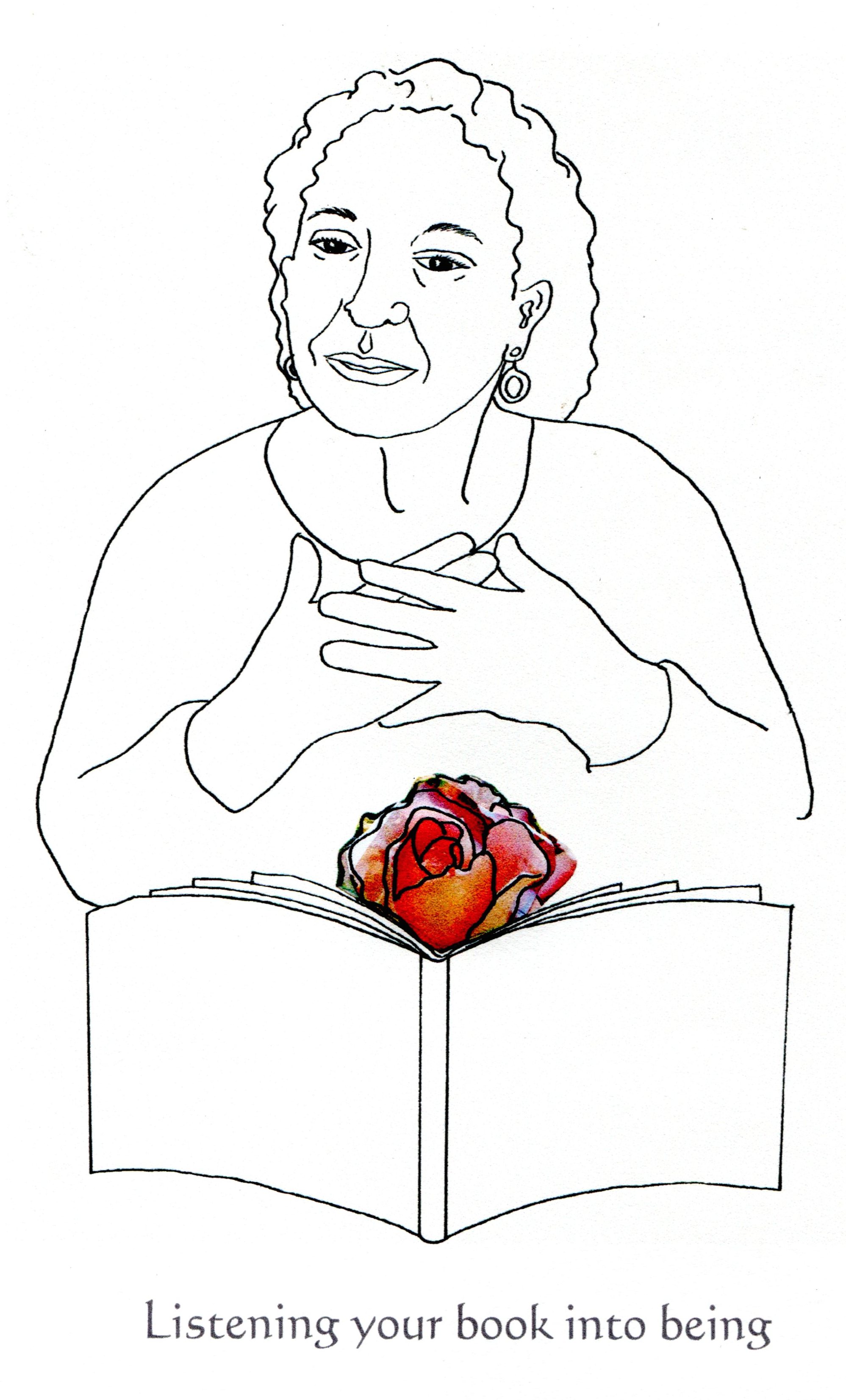 This illustration evokes the deep message of my business, and reminds me that the process of "Listening Your Book into Being" really works.
If you have a heart-based business that could benefit from an illustration, contact me. We'll collaborate so that you love it.
II. DRAWINGS FROM PHOTOS OF TWO PEOPLE RELATING TO EACH OTHER
There's something magical, for me, about doing a drawing of two people relating to each other. The magic is in each person, but also in what's between them. Often, in taking the deeply attentive time to draw what's in the photo, my affectionate looking seems to help bring the inner sense of the people to life. Here are some of my favorities.
A BIRTHDAY GIFT FROM A DAUGHTER: The illustration below was taken from the photo at your right. The mother in the photo was about to turn 80, and the daughter — loving this photo from years before — commissioned me to turn it into a drawing.
She presented the drawing to her mother on her 80th birthday, and told me afterwards:
"Naomi, she loved your sketch. She recognized it (from the old photo) immediately. Thank you again for making it possible for me to give her a one-of-a-kind gift for her 80th."
2. RE-CAPTURING CHILDHOOD: The next set of drawings, I did from my own childhood photos. The first is of my mother and me many years ago. (I built on this drawing for the cover of my book, MotherWealth: The Feminine Path to Money.) The next three drawings harken back to when I was a young mother. The photos that inspired them were taken decades ago; the drawings were done recently, within the last few years. Such a sweet feeling came over me as I did these drawings years later! The tenderness of the photos was so palpable, and it played my experienced-by-the-years heart like a harp.
3. CELEBRATING FRIENDSHIP: My best friend from high school contacted me after 40 years! Photos were a must.
But doing a drawing from the photo was a more intimate way to honor our long friendship, and to collapse time.
III. DRAWINGS OF ONE PERSON FROM A PHOTO
It's equally as fascinating to me to draw one person as to draw two people together. Features and facial expressions can be looked at in slowed-down time, and things noticed that would have not even registered otherwise. It's not only a meditation to distill someone from their photographic image, it's also an honoring. Simply to pay that close attention to every movement of the line as it brings the mystery of the human being into visibility is to enact a form of worship. Sometimes, the person comes alive in a new, fresh way, beyond the stale familiarity of a photo stored away somewhere.
My friend Diane, again, this time in summer outside her beautiful rural home.
I added the embellished leafy background to bring a sense of specialness about this unique person and our regained friendship.
Have a favorite person along with you in a photo, somewhere? Honor both of you with a drawing from the photo. Have a favorite group of special people in a photo, somewhere? Honor everyone with a drawing from the photo. Have a special individual in a photo, somewhere? Honor and remember him or her with a drawing from the photo.
IV. ILLUSTRATIONS FOR BOOKS
Sometimes a book can benefit from having illustrations. Especially if you're publishing it yourself, you get to choose exactly what kinds of illustrations you want. (Black-and-white or greyscale are less expensive to print than color inside a book's interior, but even color costs are not prohibitive, these days.)
I was helping author Cindy Spring self-publish her book, The Wave and The Drop: Stories of Death and Afterlife. (See the "Self-Publishing & Mentoring" page to see her book's cover and read her account of our work together.) The manuscript had been proofread and the typesetting was almost finalized, when she realized that a certain section could benefit from having some illustrations.
"I can do that!" I offered enthusiastically. I loved her book, and was happy to contribute on an artistic as well as nuts-and-bolts practical level. So we discussed what she was after — something simple, striking, loosely based on Hokusai's famous print of a great wave but not in a cliched way. I did some sketches, we went back and forth with responses and suggestions — and in the end, 13 beautiful drawings were produced to grace the book's pages. I highly recommend Cindy's book, (available on www.cindyspring.com).
Here are a few of these illustrations.
Have a book getting ready for publication — whether via self-publishing or traditional publishing? If having illustrations could make a difference to the quality and communicability of the book you've given so much of yourself to, let's collaborate. Together, we'll come up with ideas for images that add value to your book and really please you.